May. 26th, 2017
08:15 pm

dorktower_feed

Tonight (Friday, May  26), I'm going to see "Of Dice and Men" at Madison's Bartell Theater again.
Cameron McNary's play – made into a movie in 2014, and now staged in Madison by the Mercury Players Theater – about the lives of various role-players, based on the 2014 film described as  "A geek movie without all the self-loathing." But it's so much methane that.
I caught  the opening night, last week, along with Judith, and two non-gamer friends. We all had a terrific time, delighted at the depths of the characters, the nuances of the script, the several laugh-out-loud moments, and – honestly – the gut-punch of an ending.
I'm very much looking forward to seeing it once more, and I'll be leading a discussion/talk-back afterwards.
You don't need a ticket for my bit – just show up at the theater at 10 pm, when the play's over.
But I'd really recommend catching the play. It's hugely enjoyable, and – bonus – you get to support local arts!
(There's adult language and innuendo in the play, so it's really not for kids. But seriously yes wow I had a great time)

Here's a trailer for the 2014 "Of Dice and Men" movie that was Kickstarted. Yes, I enjoyed the play so much, I bought the movie.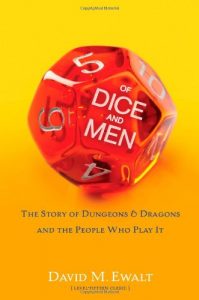 Here's a book that has nothing to do with the play of the movie, but I stumbled across it when I was researching the play. It's a fun, easy read, and packed full of info on the history of Dungeons and Dragons and the early roleplaying biz. Grab it if you need to bury yourself in an enjoyable tale about the hobby we love!
-John